PENGHARAPAN MESIANIK DI DALAM KITAB ESTER MELALUI PENDEKATAN TEOLOGIS-AKROSTIK-PLOT
Sonny Zaluchu

STBI Semarang

Nur Juniati Waruwu

STT Kanaan Nusantara Ungaran

Eirene Kardiani Gulo

PThU Groningen
Abstract
This research intends to reveal the concept of messianic hope contained in the book of Esther. The approach is taken to explain this is the search for theological meaning, the use of acrostic hermeneutics, and the use of narrative content. The results of the three approaches show that the Book of Esther is not just a historical romance but a way of working God in human life to save, and His intervention in shaping the history of His people. This book strongly echoes the messianic hope through the rescue and preservation of the Jewish people in the territory of the Persian empire. The plot is the same as God's great plan to send Jesus into the world to save people from the eternal punishment of sin.
Downloads
Download data is not yet available.
References
Abegg, M., Flint, P., & Ulrich, E. (1999). The Deadsea Scrolls Bible. HarperCollins Publishers.
Assis, E. (2007). The alphabetic acrostic in the Book of Lamentations. Catholic Biblical Quarterly, 69(4), 710–724.
Baker, J. D. (2016). The Purpose, Process, and Methods of Writing a Literature Review. AORN Journal, 103(3), 265–269. https://doi.org/10.1016/j.aorn.2016.01.016
Bill T. Arnold, & Beyer, B. E. (2015). Encountering the Old Testament. Baker Academic.
Bush, F. W. (1998). The Book of Esther : Opus non gratum in the Christian Canon. Bulletin for Biblical Research, 8(22), 39–54. https://biblicalstudies.org.uk/pdf/bbr/esther_bush.pdf
Clements, R. E. (1989). The messianic hope in the old testament. Journal for the Study of the Old Testament, 13(43), 3–19. https://doi.org/10.1177/030908928901304301
Drosnin, M. (1998). The Bible Code. Atria Books.
Dutcher-Walls, P. (2014). Reading the Historical Books – A Student Guide to Engaging the Biblical Text. Baker Academic.
Gertz, J. C., Berlejung, A., Schmid, K., & Witte, M. (2012). Purwa Pustaka - Eksplorasi ke Dalam Kitab-kitab Perjanjian Lama dan Deuterokanonika. BPK Gunung Mulia.
Hayford, J. (Ed.). (1995). Hayford's Bible Handbook. Thomas Nelson.
Hill, A. E., & Walton, Jo. H. (2019). Survey Perjanjian Lama (T. Setyatmoko (Ed.); 3rd ed.). Gandum Mas.
Howard, D. M. (2013). Kitab-kitab Sejarah (3rd ed.). Gandum Mas.
Hum, Y. C. (2013). Literature reviews. In SpringerBriefs in Applied Sciences and Technology (Issue 9789814451659, pp. 11–45). https://doi.org/10.1007/978-981-4451-66-6_2
Jeffrey, Gr. R. (2010). The Signature of God (3rd ed.). Waterbrook Press.
LaSor, W. S., Hubbard, D. A., & Bush, F. W. (1996). Old Testament survey: the message, form, and background of the Old Testament (2nd ed.). Eerdmans Publishing Co.
Miller, S. M. (2020). Panduan Lengkap Alkitab (W. Sairoen, E. Erliani, & R. U. Napituulu-Simarangkir (Eds.); 1st ed.). BPK Gunung Mulia.
Odoom, D. B., & Wiafe, F. (2016). The Importance Of The Old Testament To The Christian Spirituality. The International Journal of Social Sciences and Humanities Invention. https://doi.org/10.18535/ijsshi/v3i7.07
Olszowy-Schlanger, J. (2004). Hebrew Manuscripts of the Middle Ages. Journal of Jewish Studies, 55(2), 376–377. https://doi.org/10.18647/2569/jjs-2004
Pawson, D. (2015). Unlocking the Bible (3rd ed.). William Collins.
Pinker, A. (2006). Nahum 1: acrostic and authorship. Jewish Bible Quarterly, 34(2), 97.
Reuter, J. (2020). The Book of Esther: Its Canonization, Historicity, and Relevance. Owlcation. https://owlcation.com/humanities/The-Book-of-Esther-Its-Canonization-Historicity-and-Relevance
Robertson, O. P. (2015). The alphabetic acrostic in book of the Psalms: An overlooked element of Psalter structure. In Journal for the Study of the Old Testament (Vol. 40, Issue 2, pp. 225–238). https://doi.org/10.1177/0309089215621218
Rose, W. (2001). Messianic expectations in the Old Testament. In Die Skriflig/In Luce Verbi, 35(2). https://doi.org/10.4102/ids.v35i2.559
Soulen, R. N., & Soulen, R. K. (2001). Handbook of Biblical Criticism. Westminster John Knox Press.
Stenschke, C. (2009). The Messiah in the Old and New Testaments. Religion and Theology, 16(3–4), 327–328. https://doi.org/10.1163/102308009x12561890524158
Utley, B. (2000). Old Testament Survey. Bible Lesson International.
Vincent, M. R. (1996). Words studies in the New Testament - Volume 2. SAGE Software.
Walfish, B. D. (1993). Esther in Medieval Garb - Jewish Interpretation of the Book of Esther in the Middle Ages. State University of New York Press.
Wilkinson, B., & Boa, K. (1983). Talk Thru the Bible. Thomas Nelson, Inc.
Wright, J. W., & Fox, M. V. (1993). Character and Ideology in the Book of Esther. Journal of Biblical Literature. https://doi.org/10.2307/3267880
YHVH - YEHOVÂH, study kata. (n.d.). Retrieved May 3, 2020, from http://www.sarapanpagi.org/yhvh-yehovah-study-kata-vt7.html
Zaluchu, S. E. (2020). Strategi Penelitian Kualitatif dan Kuantitatif di Dalam Penelitian Agama. Evangelikal: Jurnal Teologi Injili Dan Pembinaan Warga Jemaat, 4(1), 28–38.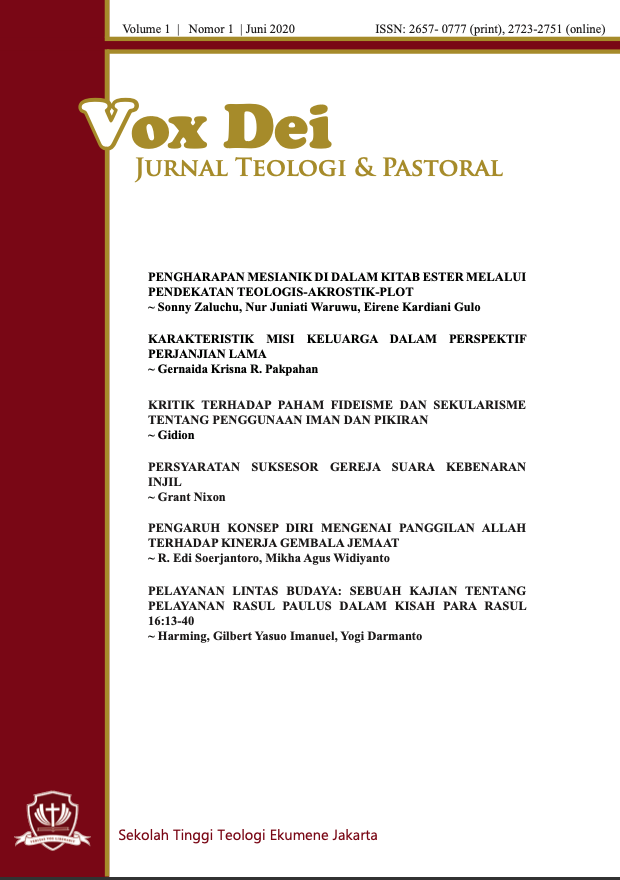 Copyright (c) 2020 Vox Dei
This work is licensed under a Creative Commons Attribution-NonCommercial 4.0 International License.
copyright @ 2020 Published by Jurnal Vox Dei, STT Ekumene Jakarta. All Right Reserved.