RELASI INTELEKTUALITAS DAN SPIRITUALITAS DALAM BERAPOLOGETIKA: SUATU TINJAUAN INJILI
Nathanail Sitepu

STTI Harvest Semarang
Keywords:
Apologetics, Intellectuality, Spirituality, Gospel, Faith
Abstract
This article highlights the opinion which states that apologetic activities are activities that only hone intellectually but have no impact on one's spirituality or spirituality. As a result, the argument is that apologetic activities currently rife on social media only end in debating with coaches or attacking and humiliating one another. Often what stands out is sectarian egoism, not love for winning souls to Christ. The method used is a literature research approach, then analyzed with a comparative analytical approach in assessing apologetic activities related to intellectuality and spirituality. The study of this article reveals that Apologetics is closely related to the development of one's intellect and spirituality. The failure by some apologists to show the maturity of their spirituality in debate, does not necessarily become the final measure that apologetics does not bring people closer to God. The conclusion that is found is that there is a strong correlation for the development of intellectuality and spirituality when someone is apologetic. This is because apologetics encourages a person to study the Scriptures and learn to understand, pronounce, and do it.
Downloads
Download data is not yet available.
References
Barclay, W. (1998). DUTA BAGI KRISTUS LATAR BELAKANG PETA PERJALANAN PAULUS. Jakarta: PT BPK Gunung Mulia.
Brown, C. (Ed.). (1975). the new international Dictionary of New Testament Theology (4th editio). Grand Rapids, MI: Zondervan.
Dahle, L. (2013). Truth, Christian Mission and Apologetics: A Response and A Proposal. NORSK TIDSSKRIFT FOR MISJONSVITENSKAP, 1.
Darmawan Limasaputra, A. (2018). Memandang Penderitaan Melalui Perspektif The Already and The Not Yet dari Rasul Paulus. Veritas : Jurnal Teologi Dan Pelayanan, 17, 43–60. https://doi.org/https://doi.org/10.36421/veritas.v17i1.305
Djadi, J. (2003). Apologetika Tentang Kristologi. Jurnal Jaffray, 1. https://doi.org/http://dx.doi.org/10.25278/jj71.v1i1.167
Frame, J. M. (2000). Apologetika bagi Kemuliaan Allah: Sebuah Pengantar. Momentum.
Got question. (n.d.). Apa perbedaan antara agama dan spiritualitas?
Hutahean, T. (2019). SIGNIFIKANSI APOLOGETIKA DALAM PENGINJILAN. STULOS, 17, 54–74.
J. Christian Beker. (1980). Paul the Apostle: The Triumph of God in Life and Thought. Edinburgh: T&T Clark.
Kawangmani, S. (2019). POLA APOLOGETIKA KONTEKSTUAL UNTUK MEMBERITAKAN KABAR BAIK KEPADA SUKU JAWA WONG CILIK. Jurnal Gamaliel : Teologi Praktika, 1(2). https://doi.org/https://doi.org/10.38052/gamaliel.v1i2.40
Novalina, M. (2020a). Mengenal Paulus dan Teologinya (1st ed.). Bogor: Lindan Bestari.
Novalina, M. (2020b). Spiritualitas Orang Kristen Dalam Menghadirkan Kerajaan Allah di Tengah Tantangan Radikalisme. Jurnal Teologi Kontekstual Indonesia, 1(1), 26. https://doi.org/10.46445/jtki.v1i1.293
Pratiwi, A. (2020). KRITIK ATAS PRINSIP OBJEKTIVITAS DALAM KODE ETIK AKUNTAN MENURUT PEMIKIRAN MARTIN LUTHER. Jurnal Ilmiah Mahasiswa Fakultas Ekonomi Dan Bisnis, 4(2).
Sabdono, E. (2017). Hidup Menurut Roh. Jakarta: Rehobot Literature.
sproul, R. (2009). Defending Your Faith: An Introduction to Apologetics. wheaton: crossway.
Stackhouse, Jr., J. G. (2002). Humble Apologetics: Defending the Faith Today. New York: Oxford University Press.
Taufik. (2020). ANTARA MARTIN LUTHER DAN MUHAMMAD ABDUH:ReformasiAgamaPerspektif Sosiologi Kebudayaan dan Politik Kegamaan. Al-IttihadJurnal Pemikiran Dan Hukum Islam, 6, 1–26.
Tri Handoko, Y. (n.d.). Apologetika: Apa dan Bagaimana?
Tri Handoko, Y. (2018). Mengapa Kita Tidak Membela Agama Kita? Retrieved December 23, 2020, from https://rec.or.id/article_856_Mengapa-Kita-Tidak-Membela-Agama-Kita
Tridarmanto, Y. (2008). MELACAK KEMBALI METODOLOGI RASUL PAULUS DALAM BERTEOLOGI. Gema Teologi, 32.
Tulung, J. M. (2020). PEMIKIRAN TEOLOGIS EDUKATIF YOHANES CALVIN SERTA RELEVANSINYA BAGI PENDIDIKAN BERGEREJA MASA KINI. Tumou Tou, VII, 11–26.
William, R. (2014). Jumpa Allah Dalam Paulus. Jakarta: Waskita Publishing.
Yosia, A. (2018). Merupa Teater Kemuliaan Allah Sebagai Ruang Publik: Suatu Usaha untuk Mengonstruksi Suatu Ruang Publik Lewat Pemikiran John Calvin dan Ninian Smart di dalam konteks Agama-agama Dunia. Indonesian Journal of Theology, 6, 114–137. https://doi.org/https://doi.org/10.46567/ijt.v6i2.9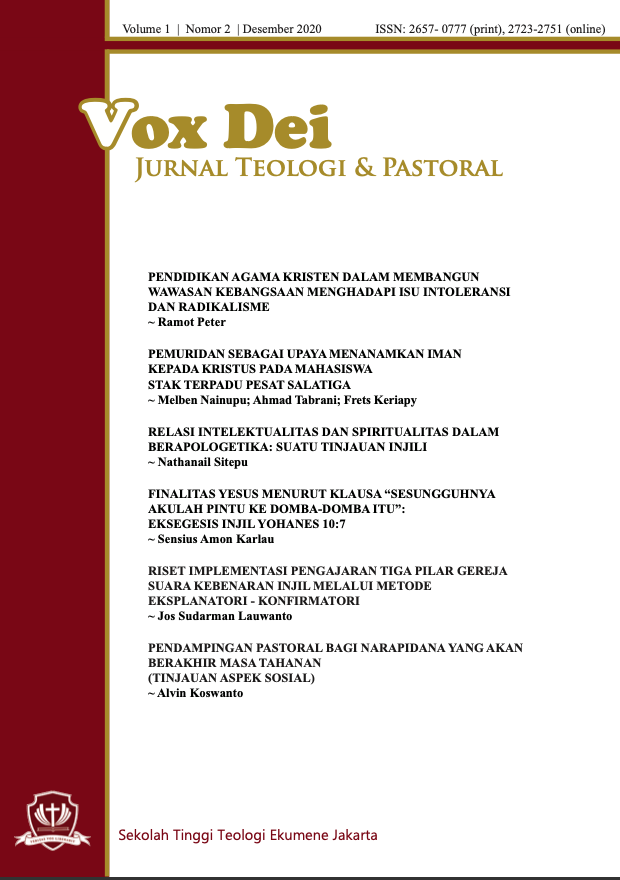 Copyright (c) 2020 VOX DEI: Jurnal Teologi dan Pastoral 
This work is licensed under a Creative Commons Attribution-NonCommercial 4.0 International License.
copyright @ 2020 Published by Jurnal Vox Dei, STT Ekumene Jakarta. All Right Reserved.