Iman Rahab: Sebuah Refleksi Teologis Terhadap Iman Kaum Marginal
Andri Arbet Laik

Sekolah Tinggi Teologi Ekumene Jakarta

Grant Nixon

STT Ekumene Jakarta
Keywords:
faith, marginalized people, Rahab, Joshua
Abstract
     Kaum marginal adalah mereka yang tersisihkan dalam kehidupan masyarakat oleh karena status sosial mereka yang rendah, dan dianggap sebagai sampah masyarakat. Kaum marginal terpinggirkan dalam segala bidang, termasuk dalam bidang keagamaan yang berhubungan dengan iman. Berdasarkan penelitian, kaum marginal cenderung mendapatkan stigma negatif karena latar belakang dan status sosial, bahkan dalam hal iman, masyarakat cenderung memiliki stigma negatif terhadap kaum ini, karena kaum marginal dianggap memiliki kualitas iman yang rendah dan cenderung tidak percaya kepada Tuhan. Hal ini menyebabkan tumbuhnya sikap fatalistik, rasa malu, dan rasa terasingkan, sehingga hal ini membuat hati mereka cenderung ragu akan kebijaksanaan dan kasih Allah. Oleh karenanya kajian terhadap tokoh Rahab dalam narasi Yosua 2:1-24 untuk membahas secara khusus mengenai iman seorang marginal dalam masyarakat zaman Kanaan kuno, yang lewat perbuatannya ia membuktikan imannya yang sejati kepada Allah. Studi tentang iman tokoh Rahab ini merupakan refleksi teologis terhadap iman kaum marginal di masyarakat. Penelitian ini menggunakan metode penafsiran eksposisi terhadap narasi, berdasarkan prinsip hermeneutik. Hasil penelitian ini adalah kualitas iman atau iman yang sejati dari seorang tidak bisa diukur berdasarkan status sosialnya, karena iman yang sejati lahir dari hati yang takut akan Tuhan, yang tercermin dalam perbuatan.
Downloads
Download data is not yet available.
References
Ali, H. M. S. (2002). Metodologi Penelitian Agama: Pendekatan Teori dan Praktek. PT. Raja Grafindo Persada.
Bakker, F. L. (2004). Sejarah Kerajaan Allah 1: Perjanjian Lama. BPK Gunung Mulia.
Baskin, J. (2014). The Rabbinic Transformations of Rahab the Harlot (Vol. 11). The University of Notre Dame.
Benson, J. (1856). COMMENTARY OF THE OLD AND NEW TESTAMENTS. T. Carlton & J. Porter, 200 Mulberry-Street.
Currid, J. D. (2011). Strong and Courageous: Joshua Simply Explained. EP Books.
Dozeman, T. B. (Ed.). (2015). Joshua 1-12: A new translation with introduction and commentary. Yale University Press.
Guthrie, D. (2015). Tafsiran Alkitab Masa Kini-jilid I. BPK Gunung Mulia.
Hill, A. E., & Walton, J. H. (2018). Survey Perjanjian Lama. Penerbit Gandum Mas.
Howard,Jr., D. M. (2015). Rahab's Faith: An Exposition of Joshua 2: 1-14. SAGE Publishing, 1.
Hubbard, R. L. (2009). Joshua: NIV Application commentary from bibical text--to contemporary life. Zondervan.
KBBI Daring. (2021). https://kbbi.kemdikbud.go.id/entri/hedonisme
Keil, C. F., & Delitzsch, F. (1866). Keil and Delitzsch Commentary On The Old Testament. T.&T. Clark.
Klein, W. W. (2016). Introduction to Biblical Interpretation 2: Pengantar Tafsiran Alkitab.
Longman, T., & Garland, D. E. (Eds.). (2006). The expositor's Bible commentary (Rev. ed). Zondervan.
Manongko, D. (2005). Perempuan Sundal Tokoh Iman. SEKOLAH TINGGI TEOLOGI INJILI INDONESIA.
Osborn, G. R. (2010). The Hermeneutical Spiral-A comprehensive Introduction to Bible Interpretation. IVP Academic.
Puspa, A. (2020). Pemerintah Hadir untuk Kelompok Marginal. https://mediaindonesia.com/humaniora/362896/pemerintah-hadir-untuk-kelompok-marginal
R.E. Harlow. (1984). Winning & Losing: Studies in Joshua, Judges, Ruth. Everyday Publication.
Robertson, R. (1994). Agama: Dalam Analisa dan Interpretasi Sosiologis. Rajawali Press.
Robinson, B. P. (2009). Rahab of Canaan—And Israel. Scandinavian Journal of the Old Testament, 23.
Rouw, R. F. (2017). Kepercayaan Rahab Berdasarkan Yosua 2:1-24. Sekolah Tinggi Filsafat Jaffray, 15.
Setiadi, Ign. D. (2018). Komunikasi Kaum Marjinal | Portal Berita Unika Soegijapranata. https://news.unika.ac.id/2018/09/komunikasi-kaum-marjinal/
Stamps, D. C. (2010). Alkitab Penuntun Hidup Berkelimpahan. Gandum Mas.
Walvoord, J. F. (1985). The Bible Knowledge Commentary. Victor Books.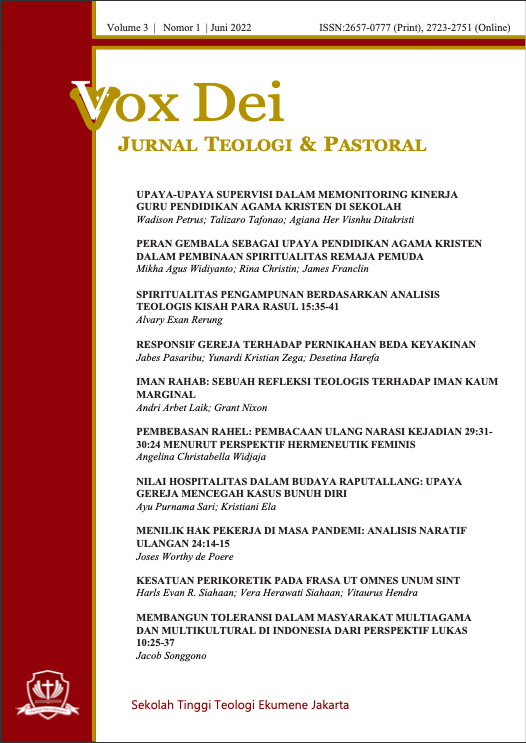 This work is licensed under a Creative Commons Attribution-NonCommercial 4.0 International License.
copyright @ 2020 Published by Jurnal Vox Dei, STT Ekumene Jakarta. All Right Reserved.