FILANTROPI KRISTEN: RESPONS TUBUH KRISTUS DALAM MENGATASI KEMISKINAN PADA MASA PANDEMI COVID-19 BERDASARKAN KISAH PARA RASUL 2:44-45
Gde Ngurah Reza Rizaldy

STT EKUMENE

Kayla Nathania Thayeb

Davin G. Sitompul

STT Ekumene Jakarta
Keywords:
Covid-19, Christian Philanthropy, Luke's Gospel, Poverty, Acts
Abstract
Poverty is not a new problem in the context of life in Indonesia. Ironically, the current progress has not succeeded in overcoming this economic issue. This can be seen from the increasing poverty rate, and even worse by the presence of the COVID-19 pandemic. To address this economic issue, the life of the early Christian congregation showed its success in overcoming poverty, as evidenced in Acts 2:44-45. Thus, this article aims to formulate a concept called Christian Philanthropy, as a solution in addressing the economic difficulties experienced by the community, especially in the Church environment. So contextually, this research is useful for opening the perspective of individuals and the Church in seeing, as well as overcoming it by applying the concept of Christian Philanthropy which is viewed from the perspective of the New Testament. This research uses qualitative methods through hermeneutic studies. The results of the study found that the concept of philanthropy encourages the Church to respond to economic problems experienced by carrying out services comprehensively or evenly, both inwardly and outwardly, especially to marginalized groups.
Downloads
Download data is not yet available.
References
Acts 2:44 Greek Text Analysis. (2004). Retrieved April 29, 2021, from https://biblehub.com/text/acts/2-44.htm
Berkhof, H., & Enklaar, I. H. (2019). Sejarah gereja. Jakarta: BPK Gunung Mulia.
Chusna Farisa, F. (2020). Melihat Efektivitas 9 Bantuan dan Subsidi Pemerintah Selama 6 Bulan Pandemi. Retrieved from https://www.kominfo.go.id/content/detail/32247/bansos-insentif-hingga-vaksinasi-jadi-upaya-pemerintah-tangani-pandemi/0/berita_satker
Constable, T. L. (2015). Thomas Constable's Notes on the Bible: Luke-john Volume 7 of Constable's Notes on the Bible Series.
DeSilva, D. A. (2018). An introduction to the New Testament: Contexts, methods & ministry formation (Second Edition). Downers Grove: InterVarsity Press.
Friedman, L. J. (2002). CHARITY, PHILANTHROPY, AND CIVILITY IN AMERICAN HISTORY. 20.
Guthrie, D. (1990). New Testament introduction (4th rev. ed). Downers Grove, Ill: Inter-Varsity Press.
Hakh, S. B. (2010). Perjanjian Baru: Sejarah, Pengantar dan Pokok-pokok Teologisnya. Bandung: Bina Media Informasi.
Imeldawati, T., Tarigan, I. S., & Sihombing, W. F. (2021). Sikap Waspada Terhadap Ketamakan Akan Kekayaan (Lukas 12:13-21). Areopagus : Jurnal Pendidikan Dan Teologi Kristen, 19(1), 121–134. https://doi.org/10.46965/ja.v19i1.608
Keener, C. S. (2020). Acts. Cambridge, United Kingdom: Cambridge University Press.
Klein, W. W. (2017). Introduction to Biblical Interpretation by William W. Klein.pdf.
Knight, J. (1998). Luke's gospel. London ; New York: Routledge.
Mahuze, P. N. (2016). STUDI TENTANG PRAKSIS KOINONIA UMAT KOMUNITAS BASIS DI PAROKI ST. THERESIA BUTI KEUSKUPAN AGUNG MERAUKE-PAPUA SELATAN. 29.
Mugabe, H. (2014). Parable of the rich fool: Luke 12:13–21. Review & Expositor, 111(1), 67–73. https://doi.org/10.1177/0034637313514799
Nainupu, M. (2014). PELAYANAN GEREJA KEPADA ORANG MISKIN.
Phillips, T. E. (2001). Reading issues of wealth and poverty in Luke-Acts. Lewiston, N.Y: Edwin Mellen Press.
Putranto, W. P. A., Larasaty, P., Kurniasih, A., Pratiwi, A. I., Riyadi, Saputri, V. G., & Meilaningsih, T. (2020). Hasil Survei Sosial Demografi Dampak Covid-19 2020. BPS RI. Retrieved from https://www.bps.go.id/publication/download.html?nrbvfeve=NjY5Y2IyZTg2NDY3ODdlNTJkZDE3MWM0&xzmn=aHR0cHM6Ly93d3cuYnBzLmdvLmlkL3B1YmxpY2F0aW9uLzIwMjAvMDYvMDEvNjY5Y2IyZTg2NDY3ODdlNTJkZDE3MWM0L2hhc2lsLXN1cnZlaS1zb3NpYWwtZGVtb2dyYWZpLWRhbXBhay1jb3ZpZC0xOS0yMDIwLmh0bWw%3D&twoadfnoarfeauf=MjAyMS0wNi0xMiAyMTo1NjoxMg%3D%3D
Schnabel, E. J. (2012). Acts: Zondervan Exegetical commentary on the New Testament. Grand Rapids, Michigan: Zondervan.
Soesilo, Y. (2018). Pentakostalisme dan Aksi Sosial: Analisis Struktural Kisah Para Rasul 2:41-47. DUNAMIS: Jurnal Teologi dan Pendidikan Kristiani, 2(2), 136. https://doi.org/10.30648/dun.v2i2.172
Strong's Greek: 5363. Φιλανθρωπία (philanthrópia). (2011). Retrieved April 30, 2021, from https://biblehub.com/greek/5363.htm
Sulek, M. (2010). On the Classical Meaning of Philanthrôpía. Nonprofit and Voluntary Sector Quarterly, 39(3), 385–408. https://doi.org/10.1177/0899764009333050
Susanto, H. (2020). Panggilan Sosial Gereja Berdasarkan Pelayanan Yesus dalam Lukas 4:18-19: Sebuah Upaya Merevitalisasi Pelayanan Gereja. Veritas: Jurnal Teologi Dan Pelayanan, 19(1), 97–112. https://doi.org/10.36421/veritas.v19i1.356
Sutoyo, D. (2014). GAYA HIDUP GEREJA MULA-MULA YANG DISUKAI DALAM KISAH PARA RASUL 2: 42-47 BAGI GEREJA MASA KINI. 40.
The World Bank. (2020). COVID-19 to Add as Many as 150 Million Extreme Poor by 2021. Retrieved from https://www.worldbank.org/en/news/press-release/2020/10/07/covid-19-to-add-as-many-as-150-million-extreme-poor-by-2021
Trisna, R. P. (2020). KAUM MARGINAL DALAM INJIL LUKAS DAN KISAH PARA RASUL. 11.
Wahyudi, A. (2020). Apa Itu Entrepreneurship, Theospreneurship, Spiritualpreneurship. Retrieved from https://e-journal.stt-star.ac.id/index.php/asteros/article/view/14
Wairata, M. (2017). Diakonia Transformatif dalam Pengentasan Kemiskinan: Upaya Mentransformasi Pelayanan Gereja terhadap Orang Miskin dalam Konteks GKI Martin Luther di Tanah Papua (Universitas Kristen Satya Wacana). Universitas Kristen Satya Wacana. Retrieved from https://repository.uksw.edu/handle/123456789/13338
Wright, N. T., & Bird, M. F. (2019). The New Testament in its world: An introduction to the history, literature, and theology of the first Christians. London : Grand Rapids, MI: SPCK ; Zondervan Academic.
Yuono, Y. R. (2020). PERTUMBUHAN GEREJA DI MASA PANDEMI. 10.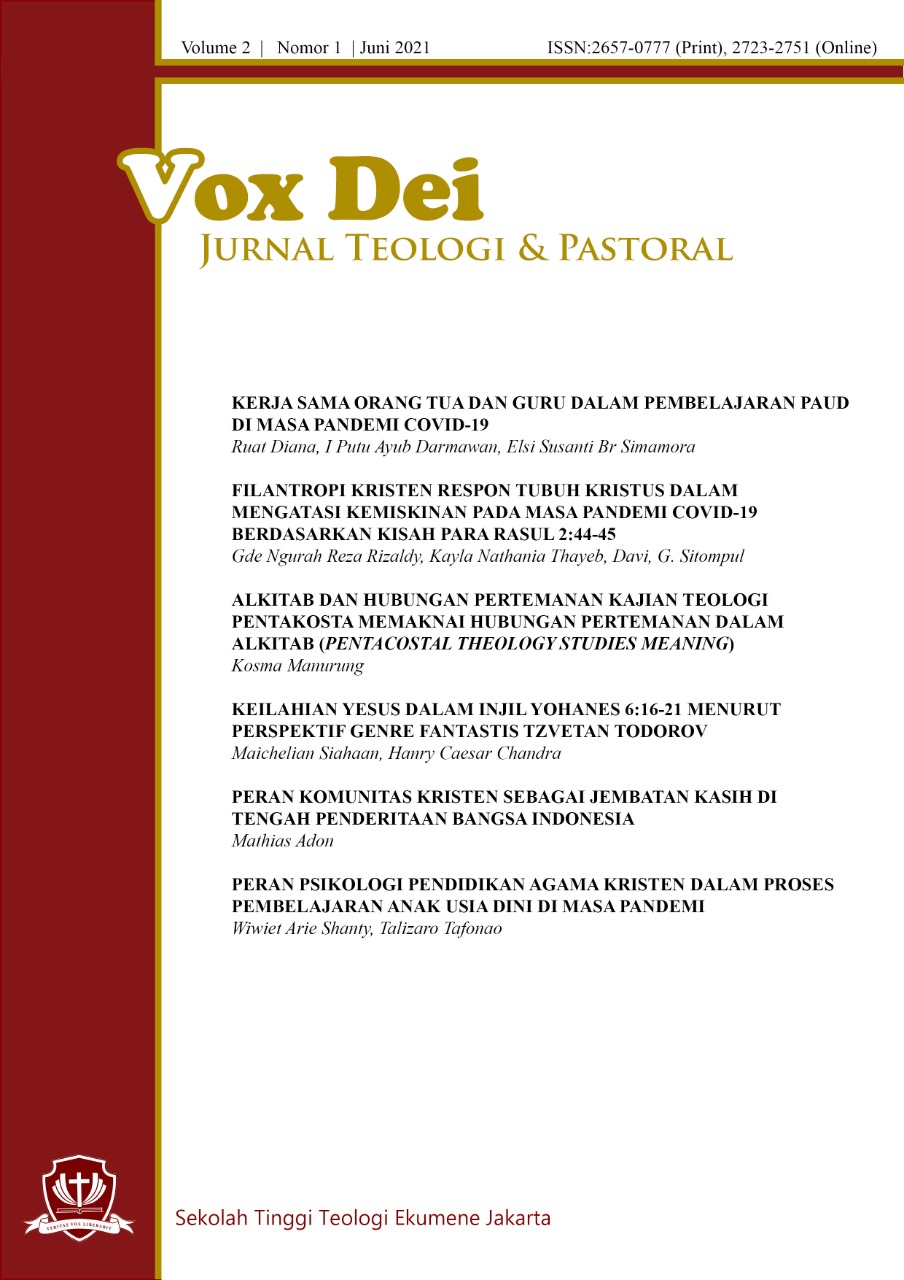 Copyright (c) 2021 VOX DEI: Jurnal Teologi dan Pastoral 
This work is licensed under a Creative Commons Attribution-NonCommercial 4.0 International License.
copyright @ 2020 Published by Jurnal Vox Dei, STT Ekumene Jakarta. All Right Reserved.