PENDIDIKAN AGAMA KRISTEN DALAM MEMBANGUN WAWASAN KEBANGSAAN MENGHADAPI ISU INTOLERANSI DAN RADIKALISME
Ramot Peter

Binus University
Keywords:
Mental revolution, character education, nationalism values
Abstract
The issues of intolerance and radicalism have penetrated the dimensions of education in Indonesia. The bad behavior of students that leads to intolerance and radicalism has disturbed the life of the nation. The government is addressing these problems by launching a character education program and a mental revolution movement. These programs and movements have not had a maximum impact so they need to involve the world of education. This research needs to be done to identify students' understanding of the importance of PAK learning in the context of building a national character; find students' understanding in addressing the dangers of radicalism and intolerance; and, providing alternative solutions to form a nationalistic character in preventing intolerance and radicalism. The method used in this research is a qualitative method with a descriptive-analytical approach using various data obtained through interviews and questionnaires as primary and secondary data through books, journals, magazines, newspapers and other relevant sources. After an unstructured interview, counseling was carried out for enrichment and further distribution of questionnaires to students. The research was conducted at the Asih Lestari Jakarta Orphanage on the residents of the orphanage called students of various levels and ages. The results of the questionnaire data collection show that: first, students understand with confidence that PAK learning is very supportive of building national-minded character; second, students are able to express attitudes towards the dangers of intolerance and radicalism; third, the formation of a national-minded character as an effort to support the mental revolution movement and alternative solutions to prevent intolerance and radicalism. Thus, all Christian Education is expected to be able to develop PAK learning as a means of building nationalistic character so that students have a nationalistic attitude to prevent the dangers of intolerance and radicalism.
Downloads
Download data is not yet available.
References
Anonim. (2019). Tempo.com.
BBC News. (2016). Ketika paham radikal masuk ke ruang kelas sekolah. https://www.bbc.com/indonesia/berita_indonesia/2016/05/160519_indonesia_lapsus_radikalisme_anakmuda_sekolah
BBC News. (2018). Pelajar SMA di Padang, Sukabumi, dan Solo dianggap paling rentan terpapar radikalisme. https://www.bbc.com/indonesia/indonesia-42832938
Benawa, A. (2018). The Effectiveness of Full Day School System for Students' Character Building. IOP Publishing.
Detiknews.com. (2019). Menhan Sebut 23,4% Mahasiswa di RI Terpapar Radikalisme.
Eliasaputra, M. P., Novalina, M., & Siahaan, R. J. (2020). TANTANGAN PENDIDIKAN AGAMA KRISTEN DI ERA REVOLUSI INDUSTRI 4.0 DAN PASCA KEBENARAN. BONAFIDE: Jurnal Teologi Dan Pendidikan Kristen, 1(1), 1–22. https://doi.org/10.46558/bonafide.v1i1.7
Green, J. and N. T. (2004). Qualitative Methods for Health Research.
Jalaluddin, H., & Idi, H. A. (2011). Filsafat pendidikan: manusia, filsafat, dan pendidikan. Divisi Buku Perguruan Tinggi, PT Rajagrafindo Persada.
Kasuistika. (2018). Miris, Radikalisme Tidak Hanya Menyasar Kampus, SD Juga Mulai Terpapar.
Kristiawan, M. (2016). Telaah Revolusi Mental dan Pendidikan Karakter dalam Pembentukkan Sumber Daya Manusia Indonesia Yang Pandai dan Berakhlak Mulia. Ta'dib.
Kumar, R. (2011). Research Methodology: A Step-by-Step Guide for Beginners No Title.
Li, L. (2004). Education for 1.3 Billion. Former Chinese Vice premier Li Lanqing on 10 Years of Education Reform and Development. Foreign Education and Research Press.
MA Widiyanto, A. F. (2020). Pengaruh Kompetensi Profesional Guru terhadap Minat Belajar Pendidikan Agama Kristen Siswa. Davar: Jurnal Teologi, 1(1), 65–73.
Martono, N. (2017). Sekolah Publik vs Sekolah Privat: dalam Wacana Kekuasaan, Demokrasi, dan Liberalisasi Pendidikan. Yayasan Pustaka Obor Indonesia.
Mastuhu. (1994). Dinamika sistem pendidikan pesantren: suatu kajian tentang unsur dan nilai sistem pendidikan pesantren. INIS.
Mawikere, M. C. S. (2020). Book Review: Desain Pendidikan Karakter: Konsepsi dan Aplikasinya dalam Lembaga Pendidikan. EDULEAD: Journal of Christian Education and Leadership, 1(2), 232–236. https://doi.org/10.47530/edulead.v1i2.49
Nainggolan, T. (2015). Revolusi Mental Menuju Keserasian Sosial di Indonesia. Sosio Informa.
Nazir, M. (2005). Metode Penelitian.
Nego, O. (2020). Teologi Multikultural sebagai Respon terhadap Meningkatnya Eskalasi Politik Identitas di Indonesia. PASCA: Jurnal Teologi Dan Pendidikan Agama Kristen, 16(2), 121–139. https://doi.org/10.46494/psc.v16i2.109
Novalina, M. (2018). Di Bawah Kepak Sayap Sang Garuda (Pemahaman, Sikap dan Tindakan Fundamental Keber-Agama-an dalam Bingkai Pancasila) (T. S. Ekumene (ed.); 1st ed.). Rehobot Literature.
Novalina, M. (2020). Spiritualitas Orang Kristen Dalam Menghadirkan Kerajaan Allah di Tengah Tantangan Radikalisme. Jurnal Teologi Kontekstual Indonesia, 1(1), 26. https://doi.org/10.46445/jtki.v1i1.293
NU Online. (2018). Radikalisme yang menyebar secara senyap pada remaja dan pemuda. https://www.nu.or.id/post/read/90645/radikalisme-yang-menyebar-secara-senyap-pada-remaja-dan-pemuda
Nuhamara, D. (2018). Pengutamaan Dimensi Karakter Dalam Pendidikan Agama Kristen. Jurnal Jaffray, 16(1), 93. https://doi.org/10.25278/jj71.v16i1.278
Pike, M. A. (2010). Christianity and Character Education: Faith in Core Values? Journal of Beliefs & Values, 31(3), 311–321.
Tilaar, H. A. R. (2000). Paradigma baru pendidikan nasional. Rineka Cipta.
Tirto. (2019). Setara Institute Sebut 10 Kampus Terpapar Paham Radikalisme.
Tracy, S. J. (2013). Qualitative Research Methods: Collecting Evidence, Crafting Analysis, Communicating Impact.
Zhafira, A. (2017). Efek moderasi kepercayaan politik terhadap hubungan antara religiusitas Islam dan intoleransi politik. Jurnal Psikologi Sosial, 15(2), 122–135. https://doi.org/10.7454/jps.2017.11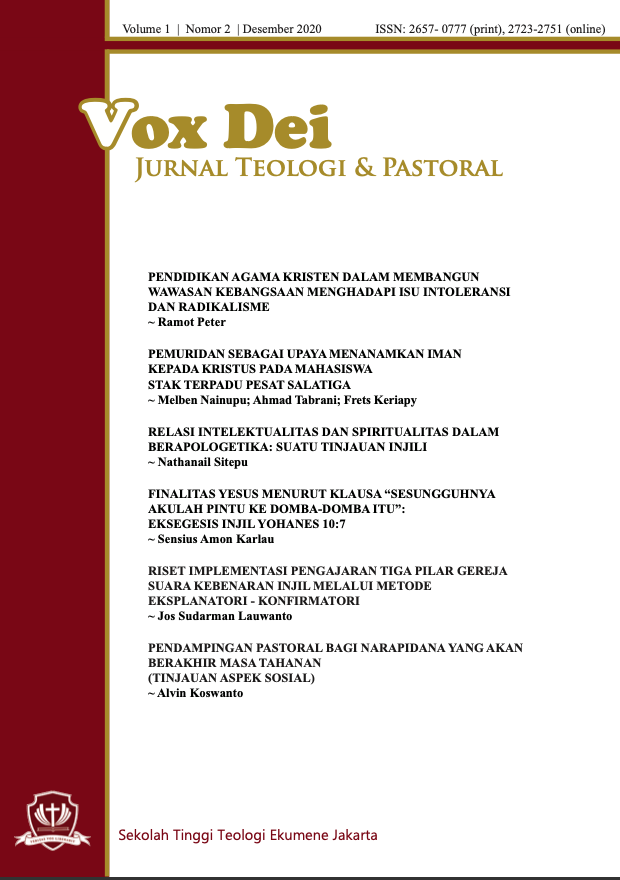 Copyright (c) 2020 VOX DEI: Jurnal Teologi dan Pastoral 
This work is licensed under a Creative Commons Attribution-NonCommercial 4.0 International License.
copyright @ 2020 Published by Jurnal Vox Dei, STT Ekumene Jakarta. All Right Reserved.