PENGARUH KONSEP DIRI MENGENAI PANGGILAN ALLAH TERHADAP KINERJA GEMBALA JEMAAT
R. Edi Soerjantoro

STT Ekumene Jakarta

Mikha Agus Widiyanto

Sekolah Tinggi Teologi Tenggarong
Keywords:
Performance, Self-Concept, God's Calling
Abstract
The pastor of the church plays an important role in advancing the church and pastoral congregation. The orientation of the implementation of the task is not just to carry out the routine tasks of grazing, but to bring the church to realize God's purpose. In this assignment, a good pastor's performance is needed. The shepherd's self-concept related to God's calling in him influences his behavior in carrying out the ministry. This study aims to examine the effect of self-concept regarding God's calling on the performance of pastors. This research method is a correlational survey with research respondents from pastors in one of the Synods in Jakarta. The results showed that there was no influence of self-concept regarding God's calling on the performance of the pastor. Efforts made to improve positive self-concepts do not have an impact on improving the performance of pastors. The performance of pastors tends to be influenced by their abilities related to their ministry and the ministry team that supports them.
Downloads
Download data is not yet available.
References
Bandura, A. (1997). Self-efficacy : the exercise of control. New York: W. H. Freeman and Company.
Beheshtifar, M., & Rahimi-Nezhad, Z. (2012). Role of self-concept in organizations. European Journal of Economics, Finance and Administrative Sciences, (44), 159–164.
Berhitu, R. J. (2014). Peran Gembala Jemaat Terhadap Pengembangan Pelayanan Holistik Di Gereja Kemah Injil Indonesia Jemaat Yegar Sahaduta Jayapura. Jurnal Jaffray, 12(2), 273–290. https://doi.org/10.25278/jj71.v12i2.19
Bharathi, T. A., & Sreedevi, P. (2016). A Study on the Self-Concept of Adolescents. International Journal of Science and Research, 5(10), 512–516.
Cowles, R. (2000). Gembala sidang. Bandung: Kalam Hidup.
Darmawijaya, P. St. (1990). Warta Nabi sebelum Pembuangan. Yogyakarta: Kanisius.
Ferris, D. L., Lian, H., Brown, D. J., Pang, F. X. J., & Keeping, L. M. (2010). Self-esteem and job performance: The moderating role of self-esteem contingencies. Personnel Psychology, 63(3), 561–593. https://doi.org/10.1111/j.1744-6570.2010.01181.x
Hermanto, Y. B., Widyastut, M., & Y, L. (2019). Factors Affecting Performance Lecturer. International Journal of Economics and Management Studies, 6(1), 21–27. https://doi.org/10.14445/23939125/ijems-v6i1p103
Hurlock, E. B. (1998). Child development. New York: McGraw Hill Book Company, Inc.
Jalagat, R. (2018). Job performance, job satisfaction, and motivation: a critical review of their relationship. Internation Journal of Advances in Management and Economics, 5(6), 36–42. Retrieved from http:doi.org/10.1002/piq.21248
Jeremias, J. (1975). Theological Dictionary of The New Testament. Grand Rapids: WM. B. Eerdmans Publishing Company.
Judge, T. a, Erez, A., & Bono, J. E. (1998). The power of being positive: the relation between positive self-concept and job performance. Human Performance, Vol. 11, pp. 167–187. https://doi.org/10.1080/08959285.1998.9668030
Kosta, Y., & Djadi, J. (2011). Peranan gembala sebagai pemimpin dalam perspektif i Petrus 5:1-4 dan relevansinya pada masa kini. Jurnnal Jaffray, 9(2), 172–200. Retrieved from https://doi.org/10.25278/jj71.v9i2.100
McMahan, O. (2002). Gembala jemaat yang sukses. Jakarta: Metanoia.
Mehrad, A. (2016). Mini Literature Review of Self-Concept. Journal of Educational, Health and Community Psychology, 5(2), 62–66. https://doi.org/10.12928/jehcp.v5i2.6036
Oh, S., & Roh, S. C. (2019). A moderated mediation model of self-concept clarity, transformational leadership, perceived work meaningfulness, and work motivation. Frontiers in Psychology, 10(JULY), 1–16. https://doi.org/10.3389/fpsyg.2019.01756
Perschbacher, W. J. (1990). The New Analitycal Greek Lexicon. Massachusetts: Hendrickson Publishers.
Prasetya, A. (2018). Analysis of factors that influence employee performance (study on permanent employees in operational section of pt wimcycle Indonesia - Surabaya). Jurnal Profit, 12(1), 1–12. https://doi.org/10.21776/ub.profit.2018.012.01.1
Rakhmat, J. (2007). Psikologi Komunikasi. Bandung: Remaja Rosdakarya.
Riggs, R. M. (2003). Gembala Sidang yang Berhasil. Malang: Gandum Mas.
Robbins, S. P., & Judge, T. A. (2017). Organizational Behavior, Global Edition. 747.
Setyati, & Dwiatmaja, C. (2014). Analisis Pengaruh Persepsi Diri, Motivasi, Dan Konsep Diri Terhadap Kinerja Guru Near Phase Pension Di SMA Negeri 1 Semarang. Jurnal Riset Ekonomi Dan Bisnis, 7(1), 95–112.
Simamora, H. (2014). Manajemen Sumber Daya Manusia (Ed. 2). Yogyakarta: Bagian Penerbitan Sekolah Tinggi Ilmu Ekonomi YKPN.
Srivastava, R., & Joshi, S. (2014). Relationship between Self-concept and Self-esteem in Adolescents. International Journal of Advanced Research, 2(2), 36–43.
Storm, M. B. (2000). Apakah penggembalaan itu? Jakarta: BPK. Gunung Mulia.
Su, Q., Li, T., Yu, T., & Sun, Y. (2017). The research on the relationship between the self-concept and the personality traits. Revista de Psicologia Del Deporte, 26(3), 141–146.
Walz, E. (2001). Bagaimana Mengelola Gereja Anda: Pedoman Bagi Pendeta Dan Pengurus Awam. Jakarta: BPK. Gunung Mulia.
Widiyanto, M. A. (2014). Statistika Untuk Penelitian Bidang Teologi, Pendidikan Agama Kristen, & Pelayanan Gereja. Bandung: Kalam Hidup.
Widiyanto, M. A., & Darmawan, I. P. A. (2019). Pengaruh Kompetensi Dan Kepuasan Mengajar terhadap Prestasi Kerja Guru Agama Kristen. Kelola: Jurnal Manajemen Pendidikan, 6(2), 179–187. https://doi.org/10.24246/j.jk.2019.v6.i2.p179-187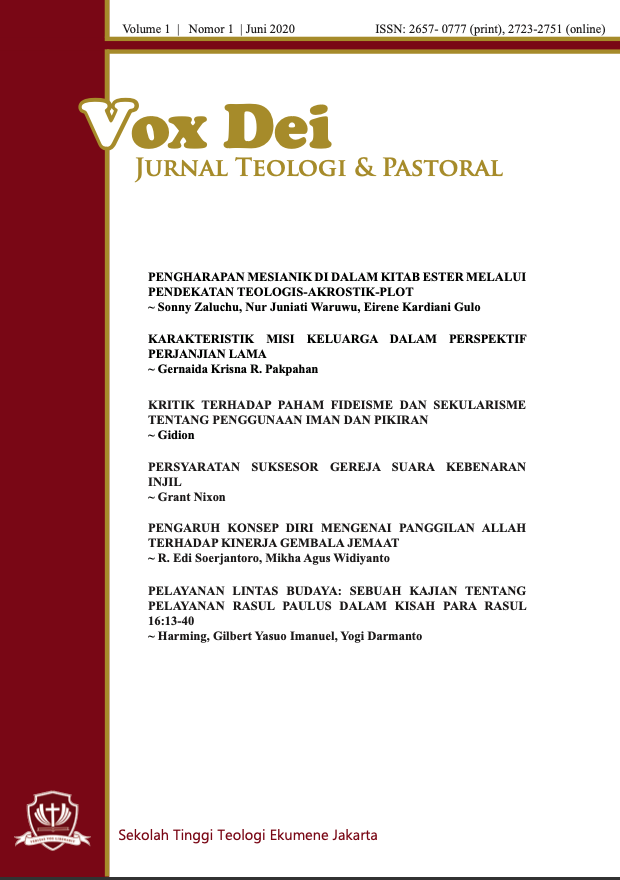 Copyright (c) 2020 Vox Dei
This work is licensed under a Creative Commons Attribution-NonCommercial 4.0 International License.
copyright @ 2020 Published by Jurnal Vox Dei, STT Ekumene Jakarta. All Right Reserved.