KRITIK TERHADAP PAHAM FIDEISME DAN SEKULARISME TENTANG PENGGUNAAN IMAN DAN PIKIRAN
Gidion

STT Kristus Alfa Omega
Keywords:
mind, faith, fideism, secularism
Abstract
This paper specifically presents a critique of the conflicting ideas of Fideism and Secularism about the use of faith and thought. Indications of the debate between the mind devotees and the faith devotees, appears until now. There are groups who believe that the Word is received only by faith and does not require the mind roles. The mind is seen as an obstacle in receiving God's Word. There are also groups who believe that all the true Word is the Word that makes sense. Things that are supernatural or unacceptable to logic, are seen as unimportant. This paper aims to provide a critique of the views of Fideism and Secularism, which contradict each other in the use of mind and faith. This paper also aims to show the relationship between mind and faith. The method used in this study is the study of literature, and the study of theological meaning about mind and faith to find the relationship between mind and faith.
Downloads
Download data is not yet available.
References
Alvin Plantinga. (2010). Reason And Beliefe In God. Notre Dame: University Notre Dame.
Anas Sudijono. (1996). Pengantar Evaluasi Pendidikan. Jakarta: PT. Raja Grafindo Persada.
Bagus, L. (2005). Kamus Filsafat. Retrieved from http://philpapers.org/rec/SHOMKF
BibleWorks 10. (2015). Bibleworks. Bibleworks LLC.
Bloch, E., & Mackinnon, D. M. (1988). The principle of hope. In Scottish Journal of Theology (Vol. 41). https://doi.org/10.1017/S0036930600040813
Darmaputera, E. (1987). Seri etika Sederhana Untuk Semua. Jakarta: BPK Gunung Mulia.
Gidion, G. (2019). Memahami Pekerjaan Roh Kudus dalam Pelayanan Gereja Berdasarkan 1 dan 2 Timotius. HARVESTER: Jurnal Teologi dan Kepemimpinan Kristen, 4(2), 108-121.
Gidion, G. (2018). STUDI BIBLIKA KORELASI TEOLOGI PAULUS DAN TEOLOGI YAKOBUS TENTANG IMAN DAN PERBUATAN IMAN. Shift Key: Jurnal Teologi dan Pelayanan, 8(2).
Guthrie, D. (2008). Teologi Perjanjian Baru 1. Jakarta: BPK Gunung Mulia.
Hadiwijono, H. (1990). Sari Sejarah Filsafat Barat 2. Yogyakarta: Kanisius.
KBBI. (2014). Kamus Besar Bahasa Indonesia (KBBI) Online - definisi kata. Potensi.
Kreft, P. dan T., & K, R. (2000). Pedoman Apolegetika Kristen 1. Bandung: Kalam Hidup.
Millard J. Erickson. (2004). Teologi Kristen. Malang: Gandum Mas.
Mircea Eliade. (2002). Sakral dan Profan. Yogyakarta: Fajar Pustaka Baru.
Nash, R. H. (2001). Iman Dan Akal Budi. Surabaya: Momentum.
Newman, B. M. (1997). Kamus Yunani-Indonesia. Jakarta: BPK Gunung Mulia.
Philip L. dan Taliaferro Charles. (2000). A Companion to Philosophy of Religion. Malden: Blacwell.
Piper, J. (2010). Think: The Life of the Mind and the Love of God. In Crossway Books. Bandung: Pionir Jaya.
Plantinga, A. (1981). Reason And Belief In God.
Richard Hofstadter. (1962). Intellectualism In American Life. New York: Vitage.
Riyanto, F. X. E. A. (2001). Pengantar Filsafat Doing-Phylosophy. Yogyakarta: Widya Sasana.
Sabdono, E. (2007). Bukan Seruling tetapi Genderang Perang. Jakarta: Rehobot Publishing House.
Smith, D. L. (2001). A Handbook of Contemporary Theology: Tracing Trends and Discerning Directions in Todays Theological Landscape. Illionis: Baker Books.
Suanglangi, H. (2005). Iman Kristen dan Akal Budi. Jurnal Jaffray, 2(2), 43. https://doi.org/10.25278/jj71.v2i2.160
Tjahjadi, S. P. L. (2004). Pertualangan Intelektual. Yogyakarta: Kanisius.
Tutupary, V. D. (2016). Kebebasan kehendak (Free Will) David Ray Griffin dalam Perspektif Filsafat. Jurnal Filsafat UGM, 26(1), 136–161.
Wells, D. (1993). No Place For Truth: Whatever Happened To Evangelical Theology? Grand Rapids: Eerdmans.
Zaluchu, S. E. (2018). Mengkritisi Teologi Sekularisasi. Kurios, 4(1), 26. https://doi.org/10.30995/kur.v4i1.31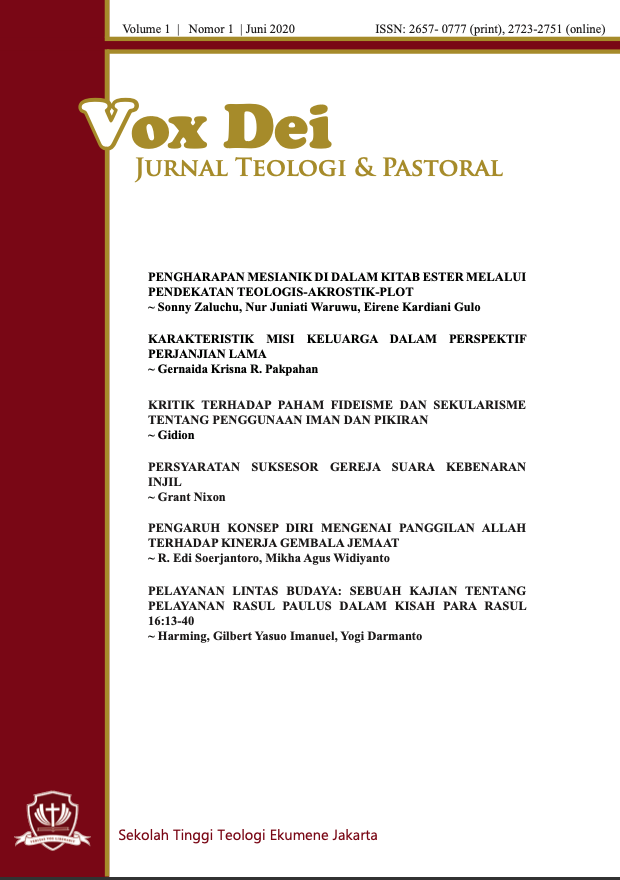 Copyright (c) 2020 Vox Dei
This work is licensed under a Creative Commons Attribution-NonCommercial 4.0 International License.
copyright @ 2020 Published by Jurnal Vox Dei, STT Ekumene Jakarta. All Right Reserved.