Diskursus Influencer Kristen Dalam Misi Dan Penginjilan Kepada Native Digital
Joni Manumpak Parulian Gultom

Sekolah Tinggi Teologi REAL
Keywords:
influencer, church, native digital, mission and evangelism, spiritual
Abstract
The advancement of the virtual world has formed a generation of Native Digitals who are out of control, unhindered, and connected. The global world is presented freely with negative life values, meaningless and like without God. The use of quiet massive media technology every day for three hours 14 minutes per day can have ungood effects such as stress, depression, even not caring about spirituality. This generation is known to have experienced a major shift in the spiritual world, no longer believing in the existence of God. The question is how to solve the problem of native digital spirituality when churches with all forms of their ministry practices are no longer in demand? How do Christian influencers act in Native Digital outreach? And what kind of Mission and Evangelism can be done? The argument is that Christian influencers have a role and penetration capacity as an answer in missionary actions and evangelism to reach Native Digitals. Several steps of penetration [1] demonstrate the position of Christian influencers as extensions of church ministry in the media space. [2] Maximize mission and evangelism through a high degree of flexibility. [3] Preparation for ministry in a deep spiritual capacity. The purpose of this research is so that Christian influencers can play the highest role as spiritual media in Native Digital spiritual missions and outreach. The second thing is to become a liaison for the Church in the virtual world to bring this generation back to being connected to the local Church. Third, bring this generation to be saved. A research method is a qualitative approach with data collection through literature study and observation. It is aimed that through this research (1) new Christian influencers will emerge with spiritual content, (2) conversion and self-recovery of the digital generation will occur, (3) Christian influencers integrated with local churches..
Downloads
Download data is not yet available.
References
Afandi, Y. (2018). Gereja Dan Pengaruh Teknologi Informasi "Digital Ecclesiology." Fidei: Jurnal Teologi Sistematika Dan Praktika, 1(2), 270–283. https://doi.org/[https://doi.org/10.34081/fidei.v1i2.12]
Ahmad, A. (2020). Media Sosial dan Tantangan Masa Depan Generasi Milenial. Avant Garde, 8(2), 134–148. https://doi.org/https://doi.org/10.36080/ag.v8i2.1158
Anjani, S., & Irwansyah, I. (2020). Peranan Influencer Dalam Mengkomunikasikan Pesan Di Media Sosial Instagram [the Role of Social Media Influencers in Communicating Messages Using Instagram]. Polyglot: Jurnal Ilmiah, 16(2), 203–229. https://doi.org/https://doi.org/10.19166/pji.v16i2.1929
Camerling, Y. F., Lauled, M. C., & Eunike, S. C. (2020). Gereja Bermisi Melalui Media Digital Di Era Revolusi Industri 4.0. Visio Dei: Jurnal Teologi Kristen, 2(1), 1–22. https://doi.org/10.35909/visiodei.v2i1.68
Diana, R. (2019). Peran Komunikator Kristen Dalam Strategi Pekabaran Injil Di Era Revolusi Industri 4.0. Integritas: Jurnal Teologi, 1(1), 66–73. https://doi.org/10.47628/ijt.v1i1.3
Dwiraharjo, S. (2020). Konstruksi Teologis Gereja Digital: Sebuah Refleksi Biblis Ibadah Online di Masa Pandemi Covid-19. Epigraphe: Jurnal Teologi Dan Pelayanan Kristiani, 4(1), 1–17. https://doi.org/[https://doi.org10.33991/epigraphe.v4i1.145]
Ezzat, H. (2020). Social media influencers and the online identity of Egyptian youth (Universitat Rovira i Virgili; Vol. 12). Universitat Rovira i Virgili. https://doi.org/https://doi.org/10.1386/cjcs_00017_1
Garcia-Roca, A. (2020). Spanish Reading Influencers In Goodreads: Participation, Experience and Canon Proposed. Jurnal Of New Aproaches In Educational Research, 9(2), 153–166. https://doi.org/hhtps://doi.or/10.7821/naer.2020.7.453
Handi Irawan D, C. A. P. (2018). Gereja Sudah Tidak Menarik Bagi Kaum Muda, [The Church Is Not Attractive To Young People].
Irawan, H. (2021). Spiritualitas Umat Kristen Indonesia 2021.
Kemp, S. (2021). Digital 2021 : Indonesia.
Kinnaman, D. (2021). Missions in Review—Trends Impacting Global Missions & Evangelism.
Lilo, D. D. (2020). Misi Gereja : Menjangkau Yang Tidak Terjangkau di Era dan Pasca Pandemi Covid-19. Phronesis, 3(2), 204–217.
Lontoh, F. O. (2016). Pengaruh Kotbah, Musik Gereja dan Fasilitas Gereja Terhadap Tingkat kehadiran JemaatChristian. Kerusso, 1(1), 1–15.
Manuel Rueda. (2019). Bible-Preaching Priest Becomes Social Media Star.
Manurung, K. (2021). Alkitab Dan Hubungan Pertemanan Kajian Teologi Pentakosta Memaknai Hubungan Pertemanan Dalam Alkitab. VOX DEI: Jurnal Teologi Dan Pastoral , 2(1), 31–49. https://doi.org/10.46408/vxd.v2i1.35
Marc Prensky. (2001). Digital Natives, Digital Immigrants. On the Horizon, 9(5), 1–6. https://doi.org/https://doi.org/10.1177/1461444818783102
McCorquodale, C. (2021). New directions in youth and young adult ministry leadership: Where have we been and more importantly where are we headed? Religions, 12(3), 1–10. https://doi.org/10.3390/rel12030146
Mulawarman, & Nurfitri, A. D. (2017). Perilaku Pengguna Media Sosial beserta Implikasinya Ditinjau dari Perspektif Psikologi Sosial Terapan. Buletin Psikologi, 25(1), 36–44. https://doi.org/10.22146/buletinpsikologi.22759
Negoita, A. G. (2019). Religiosity In The Contemporary World. Euromentor, X(3), 27–38.
Rumbiak, A. K. (2020). Teologi Ibadah dan Spiritualitas Generasi Milenial. Amreta, 3(2), 64–100.
Saptono, Y. J. (2019). Pentingnya Penginjilan dalam Pertumbuhan Gereja. DIEGESIS: Jurnal Teologi Kharismatika, 2(1), 12–24.
Siahaan, H. E. R. (2017). Aktualisasi Pelayanan Karunia di Era Digital. Epigraphe: Jurnal Teologi Dan Pelayanan Kristiani, 1(1), 23–38. https://doi.org/https://doi.org/10.33991/epigraphe.v1i1.7
Sitepu, N. (2020). Relasi Intelektualitas Dan Spiritualitas Dalam Berapologetika: Suatu Tinjauan Injili. VOX DEI: Jurnal Teologi Dan Pastoral , 1(2), 118–130. https://doi.org/10.46408/vxd.v1i2.36
Sopacoly, M. M., & Lattu, I. Y. M. (2020). Kekristenan dan Spiritualitas Online: Cybertheology sebagai Sumbangsih Berteologi di Indonesia. Gema Teologika : Jurnal Teologi Kontekstual Dan Filsafat Keilahian, 5(2), 137–154. https://doi.org/10.21460/gema.2020.52.604
Soukup, P., & Glader, P. (2020). A debate between Paul Soukup, SJ and Paul Glader on how digital culture is affecting media education on religion. Church, Communication and Culture, 5(2), 145–156. https://doi.org/https://doi.org/10.1080/23753234.2020.1765698
Subowo, A. T. (2021). Membangun Spiritualitas Digital bagi Generasi Z, [Building Digital Spirituality for Generation Z]. Dunamis, 5(2), 379–395. https://doi.org/https://doi.org/10.30648/dun.v5i2.464
Suci Prasasti, E. T. P. (2020). Karakter dan Perilaku Milenial: Peluang atau Ancaman Bonus Demografi. Consilia, 3(1), 10–22.
Supratman, L. P. (2018). Penggunaan Media Sosial oleh Digital Native, [Use of Social Media by Digital Native]. Jurnal Ilmu Komunikasi, 15(1), 47–60. https://doi.org/https://doi.org/10.24002/jik.v15i1.1243
Toatubun, H. (2021). Influencer Rohani Milenial, Ps Raditya Oloan Pangabean Tutup Usia.
William Glanz. (2018). Music and Social Media: in Perfect Harmony.
Zaluchu, S. E. (2019). Spiritual Kristiani di Tengah Laju Peradaban Digital. Merajut Keragaman Untuk Mencapai Kesejahteraan Psikologis Dalam Konteks Masyarakat 5.0, 198–2019.
Zaluchu, S. E. (2020b). Strategi Penelitian Kualitatif dan Kuantitatif Di Dalam Penelitian Agama. Evangelikal: Jurnal Teologi Injili Dan Pembinaan Warga Jemaat, 4(1), 28. https://doi.org/10.46445/ejti.v4i1.167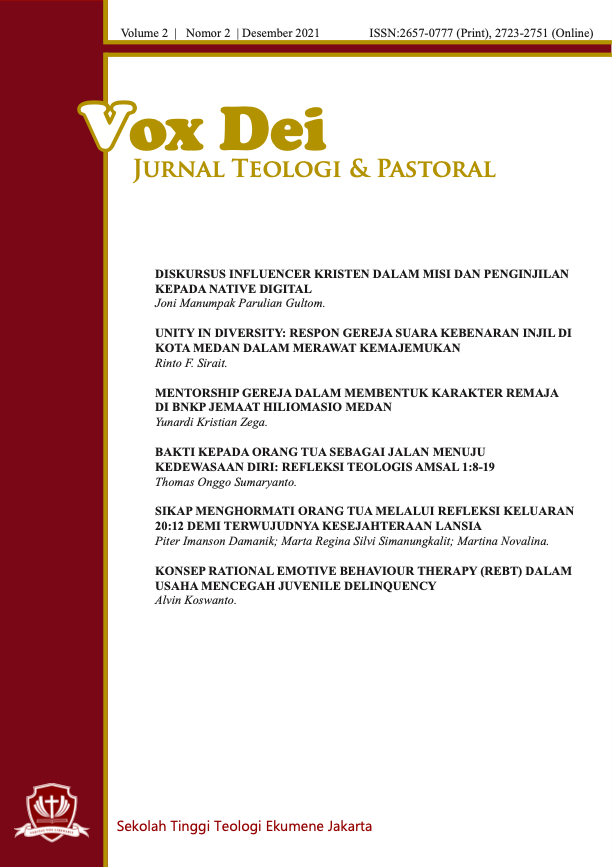 Copyright (c) 2021 VOX DEI: Jurnal Teologi dan Pastoral 
This work is licensed under a Creative Commons Attribution-NonCommercial 4.0 International License.
copyright @ 2020 Published by Jurnal Vox Dei, STT Ekumene Jakarta. All Right Reserved.